Do you wish the images came out better on your present projector? The superior image quality of the Fangor 506 sets it apart from other models.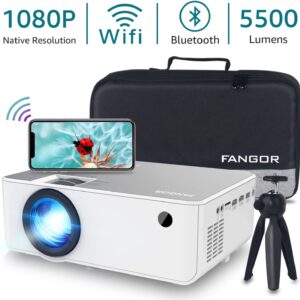 Unbeatable Picture Quality
The image quality on this projector is crystal-clear, realistic, and remarkably lifelike thanks to its native resolution of 1080p and its contrast ratio of 5000:1.
The cutting-edge optics guarantee that your favorite programs and movies will have colors that are true to life. The newest blockbusters may be seen in all their mind-blowing 3D grandeur on it.
User-Friendly Design
When compared to similar products, it stands out due to its intuitive layout. The projector's user-friendly remote makes adjusting the settings a breeze. Streaming sticks, game consoles, and laptops may all be easily connected to it thanks to its multiple inputs (including HDMI, USB, and VGA).
Eco-Friendly and Quiet Operation
Thanks to the Fangor 506 energy-efficient LEDs, you can watch movies and TV programs for years without worrying about your influence on the environment. The cutting-edge noise cancellation technology guarantees uninterrupted viewing of your favorite films.
Excellent Projector for Your TV Room
This product is an excellent option for a high-quality projector if you want to upgrade your movie evenings to the next level. It is the pinnacle of home theater enhancements, offering superb image quality along with the added benefits of being both environmentally responsible and silent in operation.
Technical Specifications for Fangor 506
Image Quality:
Native resolution: 1080p
Contrast ratio: 5000:1
Color reproduction: True-to-life colors
3D compatibility
Optics:
High-quality lens for clear and sharp visuals
Keystone correction for square image projection
Connectivity:
Inputs: HDMI, USB, VGA
Wireless support
User Interface:
User-friendly remote control
Intuitive interface
Multilingual support
Environmental Features:
High-efficiency LED light source
Energy-efficient
Noise-cancelling technology
Dimensions:
Lightweight design for portability
Compact size for easy storage
Other Features:
Suitable for home theatre applications
Ideal for upgrading movie nights
Throw Prediction: 1.38 to 1 Approximately 1.5m-5.50m
Power may be supplied between 100 and 240 V and 50 and 60 Hz.
Optimal Relative Humidity Range: 10–90%
The photos may range in size from 50 inches to 200 inches.
Also check for other FANGOR Product.
Fangor 506 Review
It produces the clearest image almost as crisp as a television screen. With this projector, we were able to easily connect our Google Chromecast, Amazon Firestick, and Xfinity Flex, and all three devices worked flawlessly.
The Fangor 506 stands out from other models due to its superior image quality, user-friendly design, eco-friendly operation, and quiet performance.
Its 1080p native resolution and 5000:1 contrast ratio ensure crystal-clear and realistic images, while its multiple inputs make it easy to connect to various devices. Additionally, the projector's intuitive layout, noise-cancelling technology, and high-efficiency LED light source make it an excellent choice for home theatre enthusiasts who want to upgrade their movie nights.
Typical Question Asked on Fangor 506 movie projector
Q. What are the connectivity available in Fangor 506 ?
A. The connectivity available for playing movies in Fangor projector are HDMI, AV, VGA, and SD Card port.
Q. How is the video quality of this projector?
A. It provides the best video quality with 1920*1080 resolution supported, and it gives vivid and bright picture quality than any other device.
Q. Does it has Wi-Fi connectivity?
A. Yes, it has inbuilt Wi-Fi connectivity for playing online media content.
Q. Can I use Apple TV on it?
A. Yes, you can use Apple TV for playing streaming media content on it.
Q. What types of batteries are supported for the remote?
A. Fangor 506 remote support two triple-A batteries.
Q. Can it be connected to Apple TV?
A. Yes, it can easily connect to an Apple TV.
Q. What is the max projected screen size of the Fangor 506 movie projector?
A. It can project a maximum projected screen size of 100 inch TV at home.
Q. How long does the lamp last?
A. It has a lamp life of 55000 hours, which gives more than five years plus when used in minimal maintenance.
Q. What is the throw distance for this projector?
A. Fangor 506 provides the best screen quality when maintained at a distance of 10 feet.
Q. How much is the contrast ratio for this product?
A. The contrast ratio is 5000:1, which provides sharp and detailed HD images.
Q. What is the screen resolution for this device?
A. The screen resolution of this movie projector is 1920*1080, which provides the best picture quality for entertainment.
Q, Does this product has an inbuilt speaker for playing movies?
A. Fangor 506 has a build-in stereo surround speaker that provides every sound effect detail that gives you pleasure sound in a different scene.
Q. Does it work with 240 Volts?
A. The unit is equipped with plug adapters to work with almost any outlet in the world.